Uncategorized
ACC Video: North Carolina vs. Wake Forest Football Highlights
247sportsFrom The ACC Digital Network:
North Carolina vs. Wake Forest Football: Wake Forest had to hold on late, but they were able to beat North Carolina 24-18. The Demon Deacons jumped out to a fast 21-0 lead and had to hold on as UNC quarterback Sam Howell tried to complete his third 4th quarter comeback of the season. Wide receiver Sage Surratt set a Wake Forest record with 157 receiving yards in the 1st half, and he had nine catches for 169 yards and a touchdown in the game. Quarterback Jamie Newman had another nice game for Wake Forest with 214 passing yards, 78 rushing yards, and three total touchdowns. Howell was 17-28 for 182 yards and two touchdowns for North Carolina.
Flip just one play in any of three games and these two teams wouldn't both be entering BB&T Field Friday night with pristine 2-0 records.

The Heels last week were facing 4th-and-17 from their own 40-yard line with 2:55 left in the game while trailing Miami by five. They had zero timeouts remaining. Punting would give them little hope of getting the ball back and a failure to convert all but ends the game. But freshman quarterback Sam Howell dropped back, got just good enough protection and fired a low ball that was corralled by junior receiver Rontavius Groves for 20 yards and a first down. The Heels ultimately stuck the ball in the end zone and sent the Kenan Stadium crowd home happy.

Just a week prior, the Heels came back from an 11-point fourth-quarter deficit to beat South Carolina 24-20.

Meanwhile, the Deacs topped Utah State in their first game of the season, trading the lead eight times in an epic battle that saw Jamie Newman weave his two-minute drill wizardry once again. But even then, it took a 4th-and-goal from the two-yard line pass from Newman to Kendall Hinton to give the Deacs a lead, then an interception by senior linebacker Justin Strnad a few moments later to seal the victory.

Flip a single play in any of those three games, and Wake could easily be 1-1 right now and the Heels could be sitting at either 1-1 or even 0-2. But they made big plays when it mattered and all the sudden one of the most anticipated games in all of college football this weekend will take place in Winston-Salem at 6 p.m. Friday.

Here's everything you need to know about the matchup:
DETAILS
North Carolina (2-0) at Wake Forest (2-0)
Date: Friday, Sept. 13
Time: 6 p.m.
Location: BB&T Field – Winston-Salem, N.C.
Tickets: Some tickets still available here from Wake Forest Athletics, but it is trending to be a sellout.
TV: Broadcast on ESPN, with announcers Adam Amin, Matt Hasselbeck, Pat McAfee and Molly McGrath.
Radio: Stan Cotten & Lary Sorensen on the call for IMG Radio. Click here for local affiliates or listen for free anywhere with new Wake Forest Gameday App or the Tune In app (both available at the App Store or Google Play for free). Pregame show begins an hour before kickoff.
Vegas Info: Wake Forest is a 3 point favorite with the over/under set at 66 according to Sportsline.
Weather: There is a 40 percent chance of a thunderstorm with a high temperature of 79, according to The Weather Channel.
SERIES HISTORY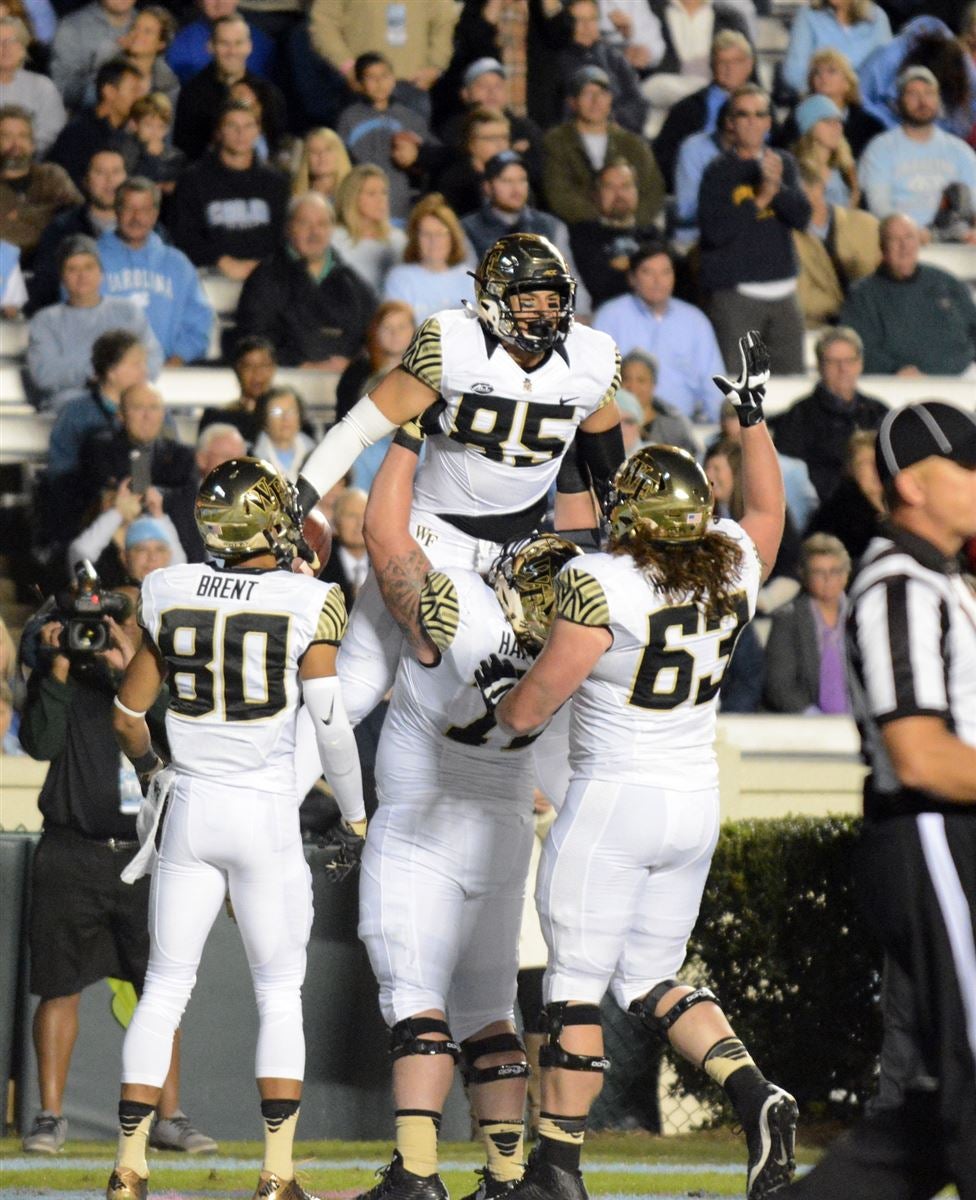 Wake Forest has played UNC 106 times going into this season, trailing the series 69-35-2. The Deacs have only played NC State (112) more times. These two teams first met in 1888, in what was the first game ever played in the state of North Carolina. The Deacs won that matchup, which took place at the state fair in Raleigh, 6-4. The Deacs and Heels played every season from 1944-2004, until conference expansion took place in the ACC. They last squared off in 2015, with the Heels dominating Wake in a 50-14 win in Chapel Hill. Wake has won three of the last five games between the two schools, and has come out on top three of the last four games played at BB&T Field. Mack Brown is a career 9-2 against Wake, while Clawson is just 0-1 against UNC